Corruption in the Peruvian police has hit the headlines for two reasons: The Peruvian authorities have decided to start a rotating system of 80% of their policemen in order for these to be more difficult to get involved in organised crime activities; between 2011 and 2012 there were 6.000 policemen being investigated for corruption.
Samuel Rotta, Proética's deputy director, reminds us what are the perceptions of Peruvian citizens vis a vis corrupt police and if policemen are easy to bribe.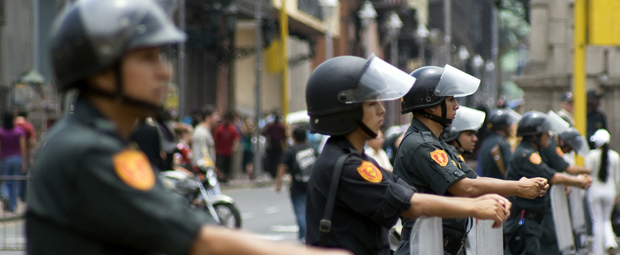 La decisión que ha tomado el alto mando policial de rotar en sus puestos al 80% de los oficialescoincide con un violento crimen en Lima que ha hecho recrudecer la sensación de inseguridad ciudadana y ha vuelto a poner el tema en agenda.
La medida incluye el cambio de más de 6 mil efectivos, de los cuales 470 son coroneles "que ocupan posiciones estratégicas en la estructura de la organización policial".  Las reasignaciones responden a una medida para detener o prevenir la corrupción, siguiendo la lógica de evitar que una autoridad policial permanezca mucho tiempo en un puesto para que no desarrolle lazos perversos con organizaciones criminales locales ni abuse de su poder.  O sea, para que no se corrompa.
De otro lado, hace una semana, La República informaba que la Inspectoría General de la PNP le abrió investigación, entre 2011 y 2012, a 12 mil policías, más de la mitad de ellos (6 mil) por corrupción.  De acuerdo con el Primer Censo Nacional de Comisarías (INEI, 2012) hay casi 35 mil policías desempeñando funciones a ese nivel.  Si tomáramos ese dato como el total de efectivos (no lo es, pues hay que considerar a los del ministerio y de las direcciones especiales;  el ejercicio es puramente ilustrativo), los 6 mil y pico de investigados representarían alrededor del 20%;  una proporción muy grande bajo sospecha de corrupción.
No está de más recordar lo que la ciudadanía opina al respecto.  Según la Encuesta Nacional sobre Corrupción 2012 de Proética, la percepción sobre corrupción policial está gravemente extendida.  Cuando se le pregunta a los encuestados qué tan posible creen que sería sobornar a distintos funcionarios públicos, resulta que los policías son los más "sobornables", seguidos de los jueces y los funcionarios de municipalidades: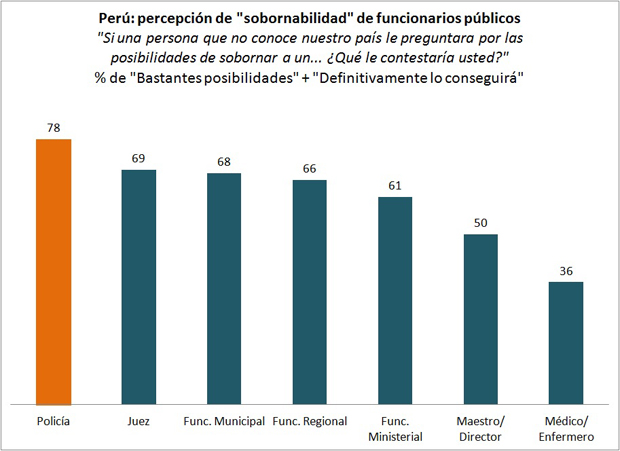 Ahora, si hablamos de experiencias y no percepciones, el Barómetro Global de la Corrupción 2011 de Transparencia Internacional muestra que, en el caso peruano, la proporción más alta de pago de sobornos al usar servicios públicos se dio en el caso de la policía, con un 33%;  seguida de los sobornos en el Poder Judicial (29%) y en aduanas (17%), tal como se aprecia en el siguiente gráfico: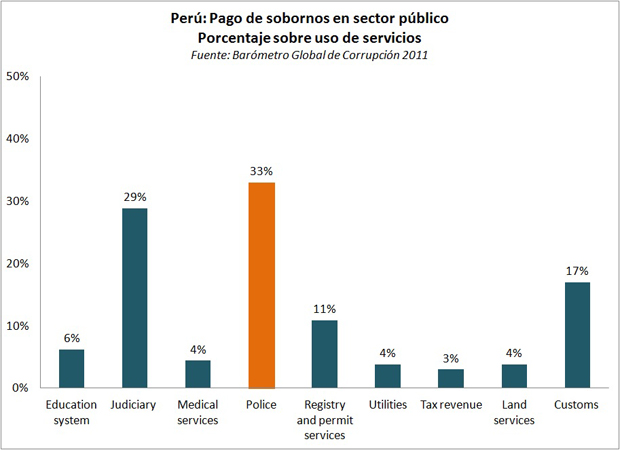 Sabemos que la corrupción policial es muy compleja, que abarca manifestaciones que van desde desvío y tráfico de combustible y turbias licitaciones hasta  los contactos menudos y cotidianos entre ciudadanos y suboficiales en el tránsito y las comisarías.  No es una cuestión de meras percepciones, sino que estas se corresponden con una realidad que afecta seriamente a una institución clave, llevándola a la inacción o deficiencia frente a la delincuencia, sea organizada o no, contribuyendo así a explicar la elevada sensación de inseguridad que mostramos los peruanos (aún cuando los índices de criminalidad sean, más bien, bajos en comparación con otros países de la región).
Todo esto lo reconocen y comprenden las autoridades del sector, como  el propio Inspector General, por ejemplo.  Y si bien es positivo que se esté tomando medidas como las que estamos comentando, dirigidas a enfrentar el problema, ciertamente no termina de tranquilizar que no haya un plan estratégico detrás, que no formen parte de una política anticriminal comprehensiva.  Dar señales es sumamente importante, pero también lo es pensar en la sostenibilidad de las mismas al enfrentar problemas de fondo.
Sobre corrupción policial y crecimiento económico he discutido en esta entrada.  En esta otra le he dado vueltas a cómo se podría aprovechar los desfogues de la gente en redes sociales frente a corrupción menuda, sobre todo policial.