Imagine an island around 250 kilometres north of Venezuela, where you can find idyllic beaches, pastel coloured colonial Dutch architechture, iguana soup and copius amounts of a lurid blue coloured liqueur. This is Curaçao, one of the newest countries in the Americas and home to a population of just 150,000 people. Put in context, that's nearly 40,000 less than the area I grew up in; the London Borough of Richmond Upon Thames – which is just one of the 33 London boroughs.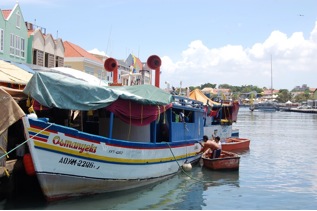 But what impact does the small size of Curaçao's population have on its ability to fight corruption and politics?
This question is explored in part in Transparency International's Curaçao National Integrity System assessment, published a couple of weeks ago. During meetings with key actors on the island since the research began in 2012, issues surrounding upholding integrity in a country with a population of this size were raised again and again. Examples of such challenges include:
Investigative journalism
Challenge:
The assessment found that investigative journalism is virtually non-existent in Curaçao. While there have been some instances of threats and physical violence against members of the press on the island, experts suggest that Curaçao-based journalists often practice self-censorship to ensure a quiet, happy and safe climate to carry on with their personal lives on the island. There is also no investigative journalism education in Curaçao, so the number of trained media professionals is limited.
Impact:
This means that the press does not perform a watchdog function, choosing instead to either finger point with unwarranted accusations, or to avoid reporting on controversial topics such as corruption at all. This results in the government not being held to account effectively by the media and in turn the public.
Whistleblowing
Challenge:
Around the world, a key challenge to integrity is ensuring that victims and witnesses of corruption have safe and effective conditions for bringing forward their cases. In a small island state such as Curaçao, where the political, economic, and social system are entwined more tightly by the island's social and kinship networks, this is a particular challenge. Take Curaçao's public sector, which while having several explicit provisions for whistleblowing on suspected integrity breaches, has no concrete protective measures (such as provisions to prove that possible charges against the whistleblower are not linked to the act of whistleblowing). Furthermore, ministers have overall responsibility for internal inquiries.
Impact:
This means that public sector employees are unlikely to report suspected integrity breaches of those in the Executive, because the Executive itself is in charge of such enquiries. More generally, citizens of a small population may feel uncomfortable blowing the whistle because their anonymity is not guaranteed; a feeling only exacerbated when substantial legal provisions are lacking. This makes it more likely for such citizens to favour the same pleasant  personal life journalists want over outing potentially corrupt individuals and practices.
Political party finance
Challenge:
The assessment found that while political parties are dependent on private funding, the sources of such donations are not disclosed, nor are politicians obliged to make any information on their finances publicly available. Furthermore, the regulation of party finances which does exist contains important loopholes and ambiguities which limit effective oversight.
Impact:
This suggests that Curaçao's political system can allow for those with money to have an unacceptable level of influence, hidden from public view. This makes it much easier for monied interests to exploit legislative and executive power temporarily granted to further specific interests. The governments of small island states are particularly vulnerable to this risk where the size of Parliament, 21 in the case of Curaçao, theoretically can make the risk of big money buying significant influence much higher.
There is no quick fix to these challenges, and it may be that this island's ideal integrity system would need to function differently to that of a larger county. Nevertheless, following our team's discussions with local actors from the private sector, public sector and civil society, I see a chance for the Curaçao electorate to view its small population size as an opportunity. Those of us working on the project have rarely seen such awareness of and engagement in a National Integrity System assessment as we have in Curaçao; a point proven by the significant media coverage the report has received since the research begun to its final publication, as well as the impressive turnout at the on island launch event a couple of weeks ago.
The people of Curaçao could use the closeness of this small community to mobilise themselves to demand integrity and hold their politicians to account, be it through demanding transparency in political finance, pushing for a more hospitable environment for whistleblowers, or establishing a stronger media. Now the assessment is complete, it is down to the Curaçao public to use the momentum for change I witnessed on the island to push for the implementation of the report's recommendations.
Do you think a small population makes fighting corruption easier or more difficult?