It takes a long time and great deal of good will, legal procedures and paper work to return stolen assets to the countries where they belong.
In April 2014, Switzerland commenced the return of US$40 million of Tunisian assets linked to the former Zine El Abidine Ben Ali regime, which had been frozen in the aftermath of its collapse three years ago.
The Swiss 'unfreezing' came as a result of 'good cooperation' with the new Tunisian authorities; but it is unclear how long it will take for the entire amount to be repatriated.
On 21 May 2014, a Cairo court sentenced Hosni Mubarak and his two sons – Alaa and Gamal – to three years in prison for the embezzlement of US$17.6 million earmarked for maintenance of the presidential palace, which the court found they used to renovate their private residences. They were fined almost US$3 million and ordered to repay the stolen money.
Drop in the ocean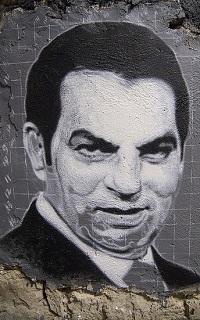 The Mubarak and Tunisia cases are a step towards ending impunity and holding leaders and officials accountable for the theft of state assets, but they are just drops in the ocean compared to estimates of assets stolen by former high-level officials in Arab Spring countries. 
Looking at Switzerland alone, the Stolen Asset Recovery Initiative records that US$416 million in assets potentially relating to former Libyan president Muammar el-Qaddafi were frozen, US$428 million relating to Hosni Mubarak, and US$66 million relating to former Tunisian president Ben Ali.
Three steps to speed up the return of stolen assets
From 2-6 June 2014, UN member states met in Vienna to discuss implementation of the UN Convention against Corruption, which includes a chapter on asset recovery.
Following this meeting, what three things should they do to speed up the return of stolen assets?
Governments of Arab Spring countries should take steps to prosecute those suspected of  stealing state assets and secure final convictions. In most cases you need a criminal conviction to release assets. But governments should also engage with states not requiring final criminal convictions and work with them to secure the evidence needed for a non-conviction based return. They should put in place transparent and accountable mechanisms for receiving these assets, to ensure returned assets are not stolen again.
Countries holding Arab Spring assets should systematically offer technical assistance to all Arab Spring states to help them to meet the legal requirements of receiving states so that assets can be returned. This could be, for example, through sending experts to work with officials on evidence gathering.
The governments of Egypt, Libya,Tunisia and Yemen should cooperate with national and international civil society and official bodies, such as the StAR initiative, to make use of their support and expertise, including training in the procedures and steps needed for recovering stolen assets, and the approaches other countries have taken for the return of assets.
And all of this should be done transparently and accountably.
Carousel image: Creative Commons, Flickr/Nick Ares