In Gaza, the month-long conflict – currently in a fragile ceasefire – has claimed close to 1,900 lives, nearly 400 of them children. About 485,000 people are internally displaced – including five members of our staff.
One of them is Marwa Abu Odeh, a project coordinator at Transparency International Palestine's office in Gaza. Marwa manages a social accountability project, Tajaawob (Response), which aims to engage communities at a grassroots level with decision-makers.
The project, run in partnership with organisations such as BBC Media Action, Muftah and Oxfam, has formed a local citizens' committee comprised mostly of young people, who monitor the delivery and implementation of social services to economically disadvantaged areas in Gaza.
Over the past month, all activities at our Gaza office have ceased and staff have been taking shelter in their homes. We conducted the interview with Marwa on 30 July before the current ceasefire and followed up on 6 August during the 72-hour ceasefire.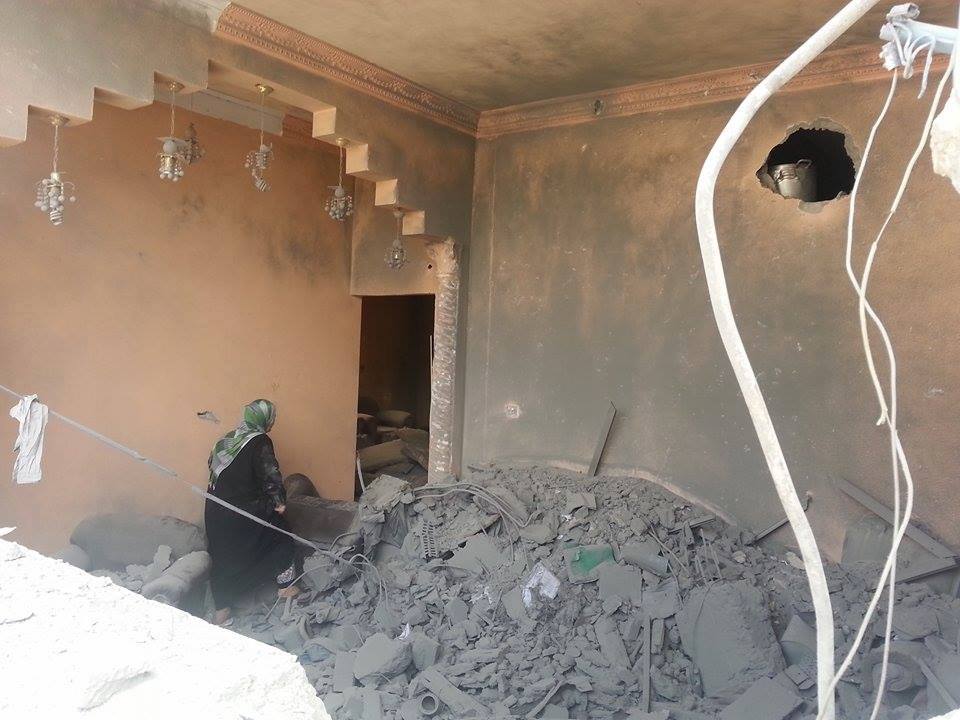 What has it been like for you in the past few weeks?
I don't move or leave my brother's house. We wait for water or electricity. There's nothing to do, we are bunkered down in our homes or what's left of them and then we go through the daily rounds of calling and checking up on our family and friends. We haven't had electricity for five days, but luckily my brother has a generator that we turn on only once a day between 10-11:00pm to charge our phones and watch the latest reports.
Can you give us a chronology of events of how this conflict has affected you?
On 18 July we heard lots of loud gunfire on our street, which is named after our family Abu Odeh, in the centre of Beit Hanoun. At first we stayed in the apartment, but by 3:30am the strikes began and we were extremely afraid – especially of the flechettes (dart-spraying bombs) dropping on our suburb. My family and I started running towards Beit Hanoun hospital, we just wanted to be in a public space, thinking there wouldn't be strikes there, staying from 4:30am to 6:00am. But they started bombing the children's wing of the hospital so we kept on running.
My elder sister was dragging her disabled children as we ran toward the UNRWA (UN Relief and Works Agency) school, which is about 2 kilometres away from the hospital. Buildings were being struck everywhere as we were ducking from the haphazard firing. All I remember is people running everywhere. From Beit Hanoun, with a population of about 48,000, we finally made it to my brother's house at 4:00pm. The journey normally takes 15 minutes by car, but we had to be cautious in avoiding the continuous strikes.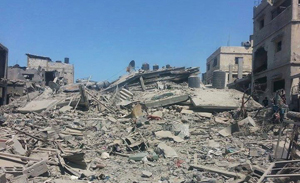 Some of my large extended family stayed at the UNRWA school in Beit Hanoun, about 500 of them, and about a week ago we heard news of fresh strikes on the school. It was an unexpected shelling where they hit children playing in the school yard – it killed 16 people, including my cousin Awad Abu Odeh, 43. His four-year-old daughter escaped with serious injuries. I have had another cousin killed, Alaa, when he was outside on the street.
How did you find out about these deaths in your family?
The radio announces the names of the dead daily.
What do you foresee in the coming days?
This has been the worst war. Every three years a new assault begins and we pay the price. I feel depressed. I seriously do not know what to expect because we are tired of the siege. We want a lasting solution. If UNRWA, a UN body, is still being hit, then what hope do we have? Where are we going to go – we cannot throw ourselves in the sea.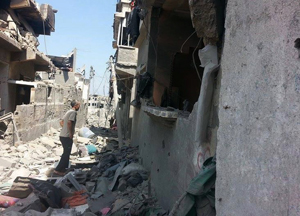 My family and I, about a week ago, returned to recover and look for any possessions from the rubble site where our building used to stand and the stench was unbearable from rotting bodies. I saw corpses, or parts of them, being pulled out by the Red Cross workers and it broke me.
This is just my story, and I feel lucky so far, but it is repeated all over Gaza in Shujaiya, Beit Lahiya, Rafah and Khan Younes. There are no expectations, only hopes for a life of dignity.
How are you and your colleagues feeling about not being able to continue your work?
Right before the conflict, we were finalising the strategic plan for Taajawob. We had conducted a series of trainings for the citizens' committee members and drew up codes of conduct that were to be shared in a public meeting with citizens to inform them of their rights. Now that there's a lull in the military strikes, I have been able to see my colleagues and see if the office is still standing.
We went and tried to comfort our colleague Rami who has tragically lost eight members of his family including his father, mother and sister. It was heartbreaking and sad to see him in such a state. The sadness is always there.
We meet at 11:00am for a couple of hours and are already planning to provide psychosocial programmes for the thousands of children that need it after this conflict ends.