Read about the Corruption Perceptions Index 2010 here.
Read about the Corruption Perceptions Index 2011 here.
For regional perspectives on the CPI 2011 results see here:
For a blog post defining public sector corruption click here and to read about our CPI Iphone App see here.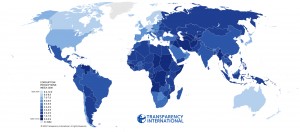 A quick search on the internet for country rankings returns thousands of results. Some tell you that Costa Rica is the happiest country in the world, while others label Germany the most beloved. Transparency International's 2009 Corruption Perceptions Index (CPI) will also show up. 180 countries ranked according to their perceived level of public sector corruption. But what lies behind each score?
Since 1995 Transparency International has published each year the CPI, ranking countries on a scale from 0 (perceived to be highly corrupt) to 10 (perceived to have low levels of corruption). The results of the 2009 edition, as every year, are sobering. No region or country in the world is immune to the damages of corruption, the vast majority of them score below 5.
The CPI has played a critical role in branding the issue of corruption on the world's conscience. It sends a powerful message and national governments have been forced to take notice and act. The demand for public sector governance that keeps the interests of its citizens first with openness and accountability is not limited to a country or region – this is a common goal that transcends borders and cultures.
The public sector is just one side of a multi-faceted problem though. Transparency International conducts an array of global research, such as the Global Corruption Barometer, a world wide public opinion survey, and the Bribe Payers Index, which measures the likelihood of firms from leading exporting countries to bribe abroad, which taken together enables us to better comprehend the many sides of corruption.
Corruption is notoriously difficult to measure. The complexity and secrecy that shroud corrupt deals mean that it is virtually impossible to quantify the financial cost of corruption. The human expense is clear to see though, and it is the poorest that are most vulnerable. The diversity of victims that seek help from one of TI's Advocacy and Legal Advice Centres shows that corruption can affect anyone. As we support these individuals, their personal triumphs are translated into systemic change – proving that corruption can be fought and beaten.
It may be that the CPI scores are just a number to you, but for many people around the world it is their daily reality. It need not be so. As Huguette Labelle, Chair of Transparency International, notes, "These 180 countries in our index are your countries, and their perceived levels of corruption will remain as such until you demand accountability."
What does that number mean to you?