Last month, Transparency International's Global Corruption Report tackled the issue of climate change. At TI's International Anti-Corruption Conference in Bangkok last November, TI talked about the importance of climate governance to Iruthisham Adam, Ambassador/Permanent Representative of Maldives to the United Nations Offices at Geneva and WTO
TI: What challenges do you see in reaching a global agreement on climate financing that is transparent and includes safe guards against corruption?
Climate finance, for both mitigation and adaptation, will have to come from a large range of sources. The Copenhagen Accord figure of US $100 billion per year by 2020 is a conservative estimate of needs, yet even this amount presents profound governance challenges.
How can we generate this amount of money? How can we manage this funding? How can we distribute it to those who need it most and assure ourselves that the money is well spent and not abused?
These challenges are at the heart of why it was difficult to come to an agreement on climate financing at COP15. We also need a UN Framework Convention on Climate Change (UNFCCC) oversight bodies to regulate the flows, distribution and efficacy of the fund. Climate financing has to be accountable and transparent in order to avoid abuse and inefficiency and build confidence and trust. Everything has come to a standstill because we are not able to build trust within the system, on which the whole UNFCCC negotiations are dependent. Procedures must be in place to allow local communities, NGOs and other stakeholders oversee the funds and build this trust.
TI: What potential role do you think civil society can play?
At COP 15, 100 heads of state attended, including my president and 80 countries committed to finance and reducing emission levels. These commitments are due to civil society building up pressure and expectations that the meeting was important and the leaders should ensure what the people want. Towards the end of Copenhagen the NGOs were locked out of the building, which was a shame. But for Cancun, we need civil society to build the same kind of pressure we had last year and ensure that they push governments to deliver what they promised in Copenhagen. (Read about what actually happened at Cancun here)
NGOs have to hold governments to their mitigation pledges, increase their ambitions and ultimately work towards a legally binding outcome that builds on Kyoto and betters it. At the same time we have to be realistic about what we can achieve as expectations were too high in Copenhagen. Governments cannot deliver a perfect world through the COP decisions, but a step-by‐step approach is realistic and I think we can achieve a better world.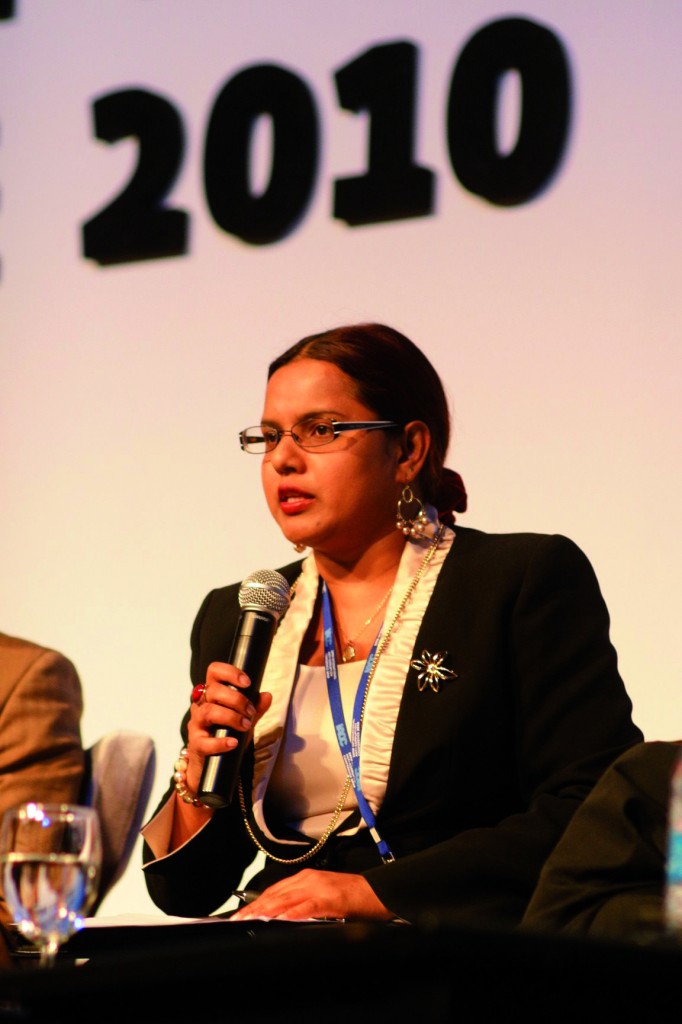 TI: In what way do you think the Maldives can be a role model for other countries in terms of climate governance?
The Maldives is undergoing a democratic transition and a system of good governance is flourishing in the country. The Maldives has come a long way and the democratisation was led by the grass roots movement. The government today is listening to the people and respecting freedom of media and transparency. We have developed the National Adaptation Program of Action through listening to the public. To address the concerns of the people, His Excellency President Mohamed Nasheed announced that the Maldives would go carbon neutral by 2020.
In line with its commitments, the government has taken forward many projects such as solar and wind energy. If a small country like the Maldives can take steps towards achieving its goal, then there is no way industrialised or emerging countries cannot do so. We will set ourselves as an example.
TI: Do you think COP meetings will achieve more consensus on monitoring, reporting and verification of emissions and finance?
We vulnerable small island countries want to have an ambitious and legally binding agreement, but at the same time we saw how difficult the multilateral negotiations on climate change were,
so we want there to be realistic expectations. […] Everything depends on the trust in climate financing – that is crucial. The global community and particularly civil society have to keep up pressure for improvements while carefully applauding incremental achievements.
Transparency in monitoring, reporting and verification is the pillar that will ensure clean implementation of policies and market based solutions. Trust and confidence need to be built in MRV and that is what I think will move climate change negotiations to an agreement.