By Sylvia Schenk, Transparency International's senior advisor for sport.
This Sunday Berlin's Olympic Stadium was packed to the rafters for the opening day of the Women's World Cup. What better sign of a growing sport with a great future ahead of it? However, away from the pitch, things are not looking so positive, as the world's favourite sport finds itself in a crisis of integrity.
In the aftermath of bribery scandals that marred its annual Congress and Presidential elections at the start of this month, the suspended member of FIFA's executive committee Jack Warner renounced all football related functions.
When an official involved in a bribery scandal retires, the investigation into his involvement in any alleged corruption case should not end. As I have said before, if bribes have been given, they have been received by someone too, and a thorough investigation is needed to shed light on exactly what happened. The role of FIFA delegates in the scandal cannot be made clear without looking into Warner's behavior.
This has been the problem in the past, and remains a lesson for the future: FIFA will not clean up its reputation without investigating all allegations, and rids itself once and for all of the shadows of the past and the risks of corruption and the scandals it brings.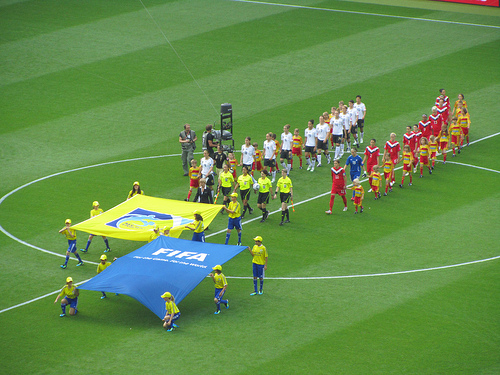 The Women's World Cup shows that football is becoming a truly global sport, but the tournament on its own cannot give FIFA a positive image. Great football on the pitch will no longer hide the problems of poor football governance, not from football fans that are well acquainted with FIFA's politics since the election in Zurich on 1 June.
It is clearly time for FIFA to leave the old ways of doing business – the "old boys network", "behind closed doors solutions" and keeping problems "in the family" – in the past, and join other organizations in modernizing their governance.
There are already examples of anti-bribery codes in the world of business: take the OECD Recommendations on Good Practice, Internal Controls, Ethics, and Compliance or the Business Principles for Countering Bribery, a TI-led initiative with a wide range of recommended good practice.
clear rules on how to deal with allegations of corruption;
institution-wide zero tolerance for corruption;
an empowered ombudsman;
a review of the existing code of ethics including the competences of the ethics committee;
compliance clauses for all contracts, for FIFA's financial support for member federations etc.;
review of the tender and awarding procedure of events as well as TV-rights and sponsorship contracts;
clear reporting and accounting rules.
Around the same time that FIFA was selecting Russia and Qatar to host the World Cups of 2018 and 2022, UN Secretary-General Ban Ki-moon was calling on business leaders worldwide to denounce corruption and to back their words with strict prohibitions against it, by adopting anti-corruption policies. FIFA should hold itself to the same standard.
Good governance has to start at the top – even all the attempts of FIFA to fight match-fixing will be wasted if the leadership in football all over the world does not adhere to ethical standards thus setting an example of integrity for those who are in danger of being involved in match-fixing, especially players and referees.
Unlike companies, FIFA has no external directors, shareholders, supervisory boards or stakeholder processes applying direct external influence. Pressure for change may therefore need to come from fans, national federations, professional clubs, sponsors, governments, the media and civil society.
photo credit: CC Flickr / flierfy