While designing the new TI anti-corruption lab, Dieter Zinnbauer looks to the past for inspiration.
Rummaging through the past can provide a lot of inspiration for innovative approaches and solutions – also in the field of anti-corruption. Or as foresight experts would put it: you need to look back, in order to be able to look forward.
All too tight and cosy relations between business and government, be it through familial relations, interlocking business interests or the famous revolving door are long-standing worries for anyone concerned about collusion and policy capture. True, a total separation of public and private interests as important as it may be as an aspirational compass for institutional reform is rather unfeasible and certainly unprecedented. Yet, as we have documented for example in our 2009 Global Corruption Report or a recent working paper the nexus between business and government appears to be ever thickening, putting corruption risks around conflicts of interest and policy capture at the top of the anti-corruption agenda.
So what would be the recipe for a public service  that draws on the state of the art of integrity safeguards and innovative accountability mechanisms to shore up the firebreak between public and private and avoid that the two get too close?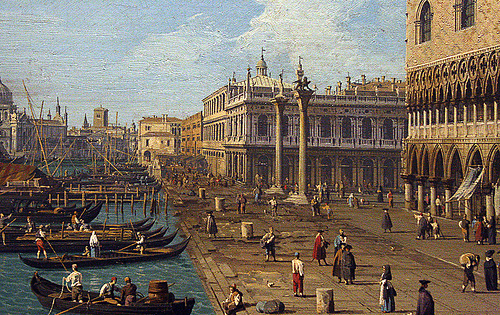 This is a problem that has concerned leaders for centuries, so it stands to reason that someone might have already come up with some ideas.
Indeed Italian city states, Genoa, Venice have actually established and deployed some interesting mechanisms at home and/or in some of their overseas protectorates as early as in the 13th to 15th century. I found them documented in a very interesting draft report prepared by Alina Mungiu-Pippidi for Norad, that will be available here).
Below in brackets some examples of the mechanisms that these cities had put in place, dressed up in some contemporary good governance speak and presented as guidelines for public integrity.
Minimise potential conflicts of interest at the outset…
(by appointing senior public managers that come from outside of the community and that are selected for their lack of connections with local elite)
… set term limits and rules for business engagement by public officials that push the envelope and set cutting-edge standards in strictness
(by appointing governors for one non-renewable limited term only and not allowing them nor any members of their family to engage in any local business.
…get inspired by the much talked about 'nudge' approach to set progressive performance incentives…
(by making a manager pay a security deposit as a guarantee against mismanagement and only reimburse when the term ends)
… tap into the wave of complaints and monitoring initiatives and make stakeholders watchdogs of public services
(by forming accountability committees, permanent bodies based on short terms that appoint members from the broader public)
… and at the end deploy some of these novel social accountability mechanisms to assess overall performance…
(by holding community organized audits at end of term)
…plus finally make sure that big business do not cheat on their community dues by tackling tax evasion through a unique collaborative mechanism
(by setting up a community-based, rotating tax collection system)
Sounds like a cutting-edge roadmap towards public integrity? Amazing to think that all this had been put in place centuries ago.
Now we would of course have to dig a lot deeper to find out how well these mechanisms actually worked, how they came about and why they disappeared for quite some time. But one lesson is clear: history provides an incredibly rich source of innovative ideas and inspiration for the fight against corruption.
History may not repeat itself. But many argue that it rhymes and bringing historians a bit more into the anti-corruption conversation will therefore be very interesting. We at TI will seek to do just that in the near future under a new initiative that we call anti-corruption lab. More to come soon…
photo credit: flickr/vidalia_11