This week the Council of Europe joined the voices with those calling for FIFA, world football's governing body, to start investigating past scandals now, and not just talk about it.
In a resolution, adopted on April 25th, the Council called for a transparent investigation into the election in 2011 that saw Sepp Blatter reinstated as FIFA president for the fourth time and the publication of all documents relating to a criminal investigation into FIFA's former marketing partner ISL that went bankrupt in 2001.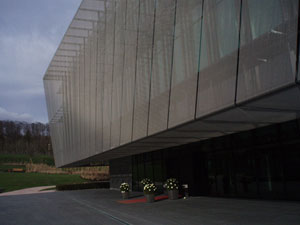 This call comes as no surprise – we have identified investigations into FIFA's past as decisive for real reform for more than a year  now – but it is an important signal that should be taken seriously. Although the Council of Europe has no legal authority over FIFA, as the founding organisation of the European Convention on Human Rights, it could be described as the conscience of Europe.
FIFA would do well to take heed. The Council has done its homework.
The report prepared by François Rochebloine, an MP from France, quotes at length Swiss special prosecutor Thomas Hildbrand, who has been part of the criminal investigation in the Canton of Zug into the collapse of ISL.  FIFA has up to now claimed that it is legally bound not to publish the information it has on the ISL case. Hildbrand says there is no agreement with any state authority or any law to stop this; from the prosecutor's point of view FIFA could publish the information today – we hope they will.
Mr. Hildbrand also provides details of payments of CHF 21.9 million (US$24 million) paid to various beneficiaries. There "was sufficient legal certainty to assume" that   out of this a sum of CHF 5.0 million (US$5.5 million) can be attributed to FIFA Executive Committee member identified as "H" and a sum of CHF 1,5 million (US$1.6 million) to a senior official of FIFA identified as "E". According to Hildbrand "Accused person H enriched himself by the amount of the commission payments accepted and not passed on as he had a duty to do."
FIFA is accused of "inadequate organisation of its undertaking … it failed to provide strict internal regulation so as to guarantee the disclosure of payments beyond proper compensation."
For the same reason that Transparency International works to fight corruption in sport, the Council believes that FIFA should be held to the highest ethical standards. The introduction to the resolution states:
"Sport plays an important role in personal development and social cohesion, as a powerful vehicle for the transmission of positive values and role models, particularly to young people. This role is closely linked to the respect and promotion, by all involved in the world of sport, of high ethical principles."
Although the Council has no power to force FIFA to do anything, lending its weight to the call for reforms – and detailing what form these should take – will keep the pressure up on FIFA.
The FIFA Congress next meets in May in Budapest. This week delegates should be receiving details of the reform process they will have to vote on. This is expected to include a beefed up Ethics Committee that is supposed to have independent powers of investigation and a mandate to look into the past if it believes there is sufficient evidence to warrant an inquiry.
It will behoove both the FIFA management and the delegates to ensure this resolution passes and that the investigations into the past start immediately and include the ISL case. Mr. Hildbrand has provided the evidence. As Mr. Rochebloine said in his press conference after his resolution passed, "what we would like to see now is for the Ethics Committee to take decisive, transparent actions."
So would we. What has been revealed now by Special public prosecutor Hildbrand is the scale of wrongdoing in the past – damaging FIFA and its members because the ISL-money was intended to be FIFA's money. This cannot be swept under the carpet any longer. It is time for those who were responsible for this in the past to be held accountable now. It is time to clean up. Otherwise any reform process at FIFA will not have any credibility.