Stories of bribery and its impact around the world, from Greece to Mexico.
39 countries are signed up to the OECD Anti-Bribery Convention, meaning that they have agreed to investigate and prosecute businesses that use corrupt practices when conducting business abroad.
We will publish a new report on Thursday showing a rise in prosecutions by many of those countries, with some notable exceptions.
It's about time. Companies who pay bribes to further their foreign business interests are exporting corruption. And it's often the most vulnerable regions getting the worst deal.
Where is the damage being done?
Emerging economies
Wal-Mart de México (Walmex), a subsidiary of the retail giant Wal-Mart International, are alleged to have handed over at least US $24 million to mayors and city council members as part of a huge bribery campaign to help the company expand.
According to the New York Times, the newspaper that broke this, the biggest bribery story of 2012, a whistleblower told the parent company about the campaign as far back as 2005. Since the bribes were allegedly made, in 2003, Wal-mart de Mexico has made profits of $12 billion.
The investigation is still ongoing, in the US and reportedly in Mexico too. Goldman Sachs say that FCPA violations and the circumstances surrounding them could eventually cost Wal-Mart more than $6.5 billion. That's 16 times more than the Mexican unit's $360 million quarterly profit announced this week.
In another survey we published this week, almost one businessperson in two said they thought they had lost business in Mexico because of a competitor paying bribes.
Corruption and taxpayers money in the Euro-zone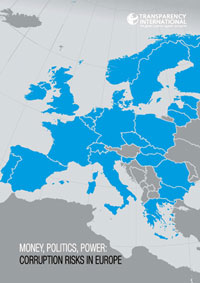 Financial woe in Greece has many root causes (see our report on corruption in Greece, and in Europe for some more), but the bloated or wasted public spending that results from business through back-handers is not sustainable.
Last week the Greek government signed a € 330 million settlement with the German engineering group Siemens. This settlement concludes long running investigations into the company, based mainly on allegations that Siemens bribed Greek officials to secure contracts at the 2004 Athens Olympics.
An estimate from the Greek parliament in 2011 of the financial impact of the bribes puts the figure at € 2.7 billion.
Greece isn't the only Eurozone country counting the cost of bribery. Questions about public contracts won by big foreign companies have also been asked in Portugal, which also had to be bailed out.
Two former executives of Ferrostaal, a major industrial service provider, were charged by the Munich Prosecutor's office in April 2011 in connection with alleged bribing of public officials in Greece and Portugal. The bribes allegedly helped secure the sale of submarines between 2000 and 2007.
The company was fined € 149 million. The two executives charged were prosecuted, convicted and given suspended jail terms.
Developing countries and the Resource Curse
Early this year two subsidiaries of the French company, Alstom SA, were implicated in allegations of attempted bribery of Zambian officials in 2002.
The subsidiaries, Alstom Hydro France and Alstom Network Schweiz AG were debarred from the World Bank Group for three years. In addition, the company paid a settlement of US $ 9.5 million and was banned from participating in bids in a number of Development Banks including the African Development Bank.
If the recent spate of bribery prosecutions are anything to go by, few countries have seen more bribery action than petroleum rich Nigeria has seen.
In 2010 – 2011, US $3.2 billion of fines have been paid by companies for corrupt dealings with Nigerian officials. Ten of the record 21 companies charged for foreign bribery by leading enforcer the United States were foreign.
Tomorrow, look out for an indepth blog post on the role played by foreign companies in paying bribes in the Middle East and North Africa.
On 06 September, Transparency International releases its annual report on enforcement of the OECD Anti-Bribery Convention.