The following post has been written by Samuel Bakowski, working in the Communications Department at Transparency International.
Alexei Dymovsky, the former police major who spoke out against corruption in a series of videos that appeared on YouTube, has been arrested on fraud and corruption charges. On 22 January he was taken into custody under allegations he embezzled money allocated to agents under his command, during his time in the anti-drug department. His arrest has been criticised by human rights activists, who believe the arrest is purely revenge for the shock his whistle-blowing videos caused in November.
Blowing the whistle on YouTube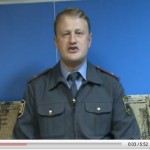 Pale and still in his stiff blue police uniform, Alexei Dymovsky takes a deep breath. A brief eye flutter of uncertainty is the only clue that the ordinary police officer from Russia's Black Sea port of Novorossiysk appears to realise the enormity of what he has planned, and its possible consequences. Then nerves subside, as deep conviction takes hold; perhaps this is partly relief that thoughts previously stifled or simply shared across a kitchen table will now be out in the open.
"Hello fellow comrade officers. I am talking to those officers for whom words such as, 'honour' and 'dignity' are not just words or sounds."
Then he drops his bombshell. After explaining that he had spent ten years working hard as a police officer, he went on to denounce the treatment of honest police officers like himself by corrupt bosses. He spoke of how young recruits are led to expect bribes will subsidise poor wages and enforced unpaid overtime. Clearly exasperated, he describes the part of his job he hated: "I can't stand detecting non-existent crimes, imprisoning people who are not guilty. I can't stand it any more."
He then launched a passionate appeal: "Senior policemen, where are you? … Lift your heads and help raise young policemen." Remarkably, he finished by addressing the Russian prime minister, Vladimir Putin, using his traditional name: "Vladimir Vladimirovich, I am appealing directly to you. You have been talking about corruption. You have been saying that not only should corruption constitute a crime, you said it should also be unseemly to engage in corrupt practices. But this is not the case in this country."
The young, brave police officer knew of what he spoke. According to new figures released by Information Science for Democracy (INDEM), a Moscow-based foundation, a staggering US $319 billion (€216 billion) in bribes is paid out each year in Russia. With a population estimated at just over 142 million, that is an average pay-out of more than US $2,000 a year per head.
The findings of Transparency International's (TI) Global Corruption Barometer 2009 suggest corruption is endemic in Russia. Public officials and civil servants were perceived as the country's most corrupt institution sector at 4.5 out of 5 (1 = not at all corrupt, 5 = extremely corrupt), with 31 per cent of respondents reported paying a bribe in the previous 12 months. Just over half thought their current government's efforts to fight corruption were ineffective.
In TI's recent Corruption Perceptions Index 2009, Russia's low score of 2.2 out of 10 put it on a par with Zimbabwe and Sierra Leone. In TI's 2008 Bribe Payers Index, which rates 22 of the leading exporting economies, the country came last, with a score of 5.9 (Scores range from 0 to 10.The higher the score for the country, the lower the likelihood of companies from this country engaging in bribery when doing business abroad.) The index also showed that the police force was perceived as being the institution which had been most affected by bribery, rated 4.0 out of five (1 = not at all corrupt, 5 = extremely corrupt)
Dymovsky's going-for-broke speech revealed a man of extraordinary courage. Within days he was suspended and within weeks was the focus of an investigation alleging misconduct. He has also been forced to relocate his pregnant wife to Moscow for her safety and hire a bodyguard himself.
The effects of corruption outlined by Dymovsky's statement, reveal its multi-faceted nature. His own case demonstrates the damaging personal repercussions on a policeman who believes in his work, yet is forced to serve a deeply flawed Justice system that exploits the very citizens it is supposed to protect.
Dymovsky's point about new recruits to the Russian police force accepting the low wages in the expectation of bribes to subsidise the shortfall, is a clear example of the how corruption is perpetuated within the system.
A recent academic study, "Attitudes to corruption amongst Russian police officers and trainees", shows "fast-streamed police recruits" think corruption is often justifiable and/or morally acceptable under particular circumstances, or for specific goals.
During his address Alexei Dymovsky stated, "I said to my boss that police in Novorossiysk are corrupted, but he told me that corruption cannot be removed by any means, and that it's the local mentality".
This notion of endemic corruption was further highlighted by President Medvedev in a recent interview when he admitted, "From the political leadership all the way down to local administrations, we are hampered by corruption." He added, "In Europe, drivers don't automatically pull out their wallets when stopped by a traffic policeman."
Despite a push by Medvedev to place corruption high on the political agenda, his words remain just that. His efforts in the past three months to champion new anti-corruption laws, including one that forces government officials to disclose their assets, have stalled. He glumly conceded that corruption "will take years to solve".
The fate of Alexei Dymovsky is a disheartening example of a missed opportunity. He speaks out in frustration about what everyone knows is the norm at a time when Russia's leaders say fighting corruption is a top priority. If this can not provide impetus for change, what can? Rather than praised for his courage, he is hounded out of his job, his pregnant wife goes into hiding, and then he is arrested for the very acts he had the bravery to expose. Perhaps Medvedev was optimistic. Corruption in Russia appears so ingrained; it may be a problem that will take decades, rather than years to solve.