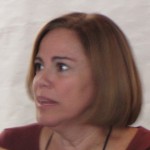 La Oficina de Asistencia Legal Anticorrupción abrirá sus puertas en Venezuela. Por Mercedes De Freitas, Directora Ejecutiva, Transparencia Venezuela. Read this article in English here.
"Mis hijos querían irse con la abuela en sus vacaciones para Boconó y tuve que sacar el permiso de viaje para menores de edad. Aún cuando llevé toda la documentación requerida, y el funcionario solo tenía que firmar y sellar un papel, después de cinco horas de espera, me dijo que podría ayudarme pero que  darle una pequeña suma de dinero, para agilizar "adentro" el trámite. En cinco minutos tuve mi permiso y mis hijos pudieron irse con su abuela."
Este tipo de testimonios se genera a diario en Venezuela, y hasta ahora no existía un organismo al cual acudir para buscar ayuda ante este tipo de situaciones. El 20 de julio, Transparencia Venezuela, inaugurará la Oficina de Asistencia Legal Anticorrupción, la cual dará respuesta a los múltiples interrogantes que surgen cuando la corrupción se hace parte de la cotidianidad de los ciudadanos.
Venezuela se encuentra en la posición más baja del Índice de Percepción de Corrupción entre los países de las Américas con 2.0 sobre 10; en el Índice Latinoamericano de Transparencia Presupuestal también ocupa la última posición con 33 sobre 100; y entre los países de América en el estudio Rule of Law Index de The World Justice Project se ubica entre las posiciones más bajas; esto se repite en otros estudios por lo que es urgente tomar acciones concretas.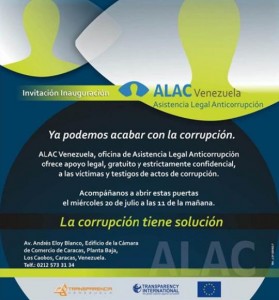 La Oficina de Asistencia Legal Anticorrupción Venezuela quiere promover la denuncia responsable, ya sea que los ciudadanos decidan llegar ellos mismos ante los organismos de administración de investigación y justicia, poniendo su cara y su nombre pero con expedientes mejor preparados; o simplemente exponer su denuncia a través de una oficina de asistencia legal para que esta lleve la información a los responsables de las instituciones donde se produjo el acto de corrupción, quedando resguardado el secreto de su identidad, pero evidenciado el hecho para poder tomar medidas.
Todo indica que la Oficina de Asistencia Legal Anticorrupción Venezuela puede hacer una gran contribución para incrementar la conciencia pública de los ciudadanos sobre la corrupción y se tomen medidas concretas para rechazarla, combatirla, proteger al denunciante e incidir. Así también a las instituciones públicas les corresponderá implementar cambios en los procesos y estructuras señaladas por las denuncias para mejorar su capacidad combatiendo la corrupción.
Para ello este equipo de profesionales profundizará en la noción de corrupción, de sus manifestaciones y consecuencias a partir de datos reales, generando mejoras sistemáticas en la lucha contra la corrupción en Venezuela y fortaleciendo las capacidades institucionales de recibir denuncias de víctimas y/o testigos de actos de corrupción en los estados y municipios.
Contará con las facilidades tecnológicas del momento; la Oficina de Asistencia Legal Anticorrupción Venezuela recibirá denuncias, dará información y respuestas a través de la página www.alacvenezuela.org, los teléfonos +58 212 3122629, +58 412 3122629, +58 416 6122629; el twitter: @ALACVenezuela), el facebook: ALACVenezuela y una sala de recepción de denuncias, con abogados, equipo y sistemas de primera.
Para lograr estos objetivos la Oficina de Asistencia Legal en Venezuela cuenta con el apoyo de la Unión Europea y se han logrado establecer acuerdos de apoyo con gobierno regionales y locales (Alcaldías y Gobernaciones)  y ONG de Derechos Humanos, protección de usuarios y consumidores, de desarrollo social, etc.
¿Qué puede hacer la Oficina de Asistencia Legal Anticorrupción Venezuela?
Orientar al ciudadano si el caso presentado es presunta corrupción e identificar las posibles acciones a tomar.
Apoyar al ciudadano en la preparación de las acciones a tomar (solicitud de información, denuncia, trámites administrativos, etc).
Realizar seguimiento a los casos y documentar su avance.
Presentar informes orientados al fortalecimiento institucional de los organismos involucrados.
Los servicios son gratuitos y se mantendrá la confidencialidad del ciudadano
¿Qué no puede hacer la Oficina de Asistencia Legal?
Tomar posición del caso
Denunciar en nombre del ciudadano.
Representar víctimas ante los tribunales.
Investigar el caso.
Remplazar al Estado en su función de investigar y sancionar
La Oficina de Asistencia Legal Anticorrupción Venezuela es el primer espacio en el que la sociedad civil podrá ofrecer, tanto a ciudadanos como a entes del Gobierno, herramientas de lucha contra la corrupción. Por esta razón el principal reto para el equipo de Transparencia Venezuela, será lograr la participación de las personas y el cambio en la sociedad venezolana, fortaleciendo así la capacidad del Estado para prevenir que se susciten hechos de corrupción.